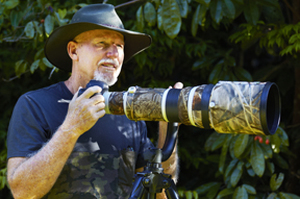 About Martin
Martin Willis is a well-published, wildlife photographer with a passion for the natural environment. With wife Sam, he is located in Malanda, Far North Queensland, an area known for its natural beauty and diverse fauna and flora. He spent the best part of his life teaching art, but retired in 2007 to pursue his passion for wildlife and photography full time.
Even though his career was also in other art fields, particularly sculpture his love of photographing wildlife has been a constant throughout his life. The desire to capture the best possible image has kept the drive to improve ongoing.
Recent Photographic Achievements:
*Five time finalist in the BBC International Wildlife Photography Competition.
*National and International Publications; including many with National Geographic, Getty Images, Steve Parish Publishing and BBC Publishing.
*Two pages and 14 images in the 2019 Swarovski Promotional Calendar.
*Wildlife as Canon Sees It' advertisement, National Geographic, Feb 2019.
Market Stalls:
Martin and Sam display and sell photographs at the following craft markets:
Palm Cove, 1st Sunday of the month from 8am-2pm.
Cairns Esplanade, presently not operating.
Yungaburra, fourth Saturday of the month from 8am-1pm.
My Mali Gallery:
Martin and Sam have a large display of images at the 'My Mali' Gallery, in Flinders Street, Townsville, NQ.
Martin's photography:
After photographing Australian wildlife for almost 40 years I am more inspired than ever by our beautiful but fragile country. The special moments I experience when observing wildlife and the natural environment have become the subject of my photography and the motivation for sharing my images. My camera is merely the powerful tool I use to tell a story, isolate and accentuate exquisite beauty or faithfully capture a particular subject.

I first picked up a camera in 1973 when a friend lent me his to accompany me on a trip to see the wildflowers in the western Australian semi-arid desert. It was a Pentax K100 fully manual film camera with a 50mm lens, 200mm lens and a set of extension tubes. Well, I had the best fun and immediately upon my return bought my own similar outfit. The rest is history. I now shoot with Canon R5 mirrorless cameras. Lenses include; Canon EF 600mm f4 111, 1.4X, Canon RF 100mm-500mm f5.6 zoom, Canon RF 15-35mm f2.8 IS, Canon EF 24mm-70mm and 100mm macro, plus a range of flashes and bits-n-pieces.

I have always loved nature. I grew up in country Western Australia and spent many hours wandering the bush as a kid. As a teenager I stayed for a few weeks on my uncle's farm in the mallee country. The trees were in blossom and swarming with insects, including many varieties of brightly coloured Jewel Beetles. Fascination with these beautiful beetles motivated a passion for collecting insects, which I killed with petrol and pinned to a piece of cork. I soon became disenchanted with killing but retained a passion for all wildlife, particularly birds; they were alive and free. Then with the discovery of the camera the challenge of capturing that 'spirit of life and freedom' was all too alluring.

Sam and I now sell images through photo libraries, and to publishers but the most fun is in selling direct to the public through local craft markets. Direct interaction with the people who are viewing and hopefully buying is very rewarding and stimulating. Much dialog often revolves around some of the following questions and comments:
You must travel a lot!
Well yes, we do. We use my photography and the need for new images as an excuse to travel and explore, mostly within Australia but also overseas. The photgraph below was taken in the Danum Valley, Sabah, North Borneo.
How do you find all those animals?
Getting out in the bush is great but you don't just stumble upon a good photographic subject. In fact, most wildlife is shy, elusive or nocturnal. This adds to the challenge and a great deal of research is put into each excursion. If particular endemic species are targeted, their behaviours and habitats are studied in detail to provide the best opportunity for success.
These are amazing photographs; you seem to capture the very essence of the animal.
Each individual animal has certain characteristic behaviours. Once you have put yourself into the position where the photograph can be obtained, it is a matter of trying to gain the photograph at the most salient moment. It might be as simple as a turn of the animal's head to capture light in the eye or a typical stance or pose. It is often extra hard work to capture behaviours unique to the species but that much more rewarding.
Do you take heaps of photographs to get one good one?
Yes, I often do but I rarely use rapid-fire technique when shooting. Rather I try to anticipate the moment so each image is controlled.
You must have a lot of patience.
Stealth and patience mixed with a good measure of luck are my proven methods for gaining respectable images. Some images are serendipitous, 'right place at the right time', but others take literally days, even weeks to obtain. Many hours are spent sitting in hide or standing motionless in the bush and not always with results. It is an amazing experience to settle on a stool in bush and sit for a few hours. The wildlife soon returns, ignores you and resumes its business as if you are not there.
What are you trying to achieve with your work?
Sam and I share the view that wildlife and natural habitats are the greatest resource on the planet; it is a great tragedy that we are losing them rapidly. Humans not only have the power to destroy these beautiful and important habitats, but also the power and responsibility to protect and preserve them. If we can raise general awareness of the beauty and fragility of our wildlife and its landscape it may encourage people to care enough to protect them.